Checklist of Basic Cleaning Chemicals Every Home Must Have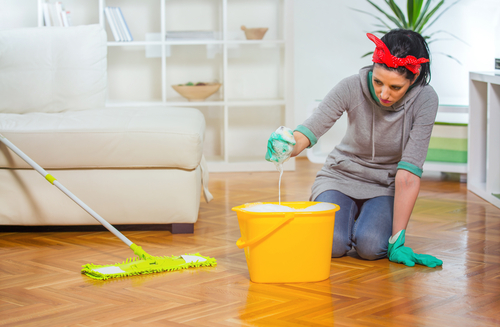 11/13/2019
Cleaning is one of the key skills you need to maintain your own home, and in order to clean properly, you need the right tools and chemicals. But no one actually teaches you what these are, which are the best and how to use them correctly. Not to worry, Alpha Cleaning Supplies is here to help you get your cleaning chemicals correct! Let's have a look at the basics of home cleaning chemicals and how best to use them.
Most households benefit from an all-purpose cleaner that can be used on most surfaces to disinfect or sanitise. These are purposely not strong disinfectants and are usually alcohol-based so they dry quickly. These are good for small spills of liquid, removal of dust or dirt particles, or just a general wipe-down if you're feeling cleaning-conscientious. The mildness means it can be applied to almost any hard surface with minimal soiling. (Also read: Do Eco-Friendly Cleaning Chemicals Really Work?)
This type of cleaning product is designed to prevent streaking across glazed surfaces as an artefact of the cleaning. Glass and tiles can show the signs of a cleaning product residue, so a specialized product is needed to make sure the cleaning doesn't make it look dirty. Glass and tile cleaners are also best used daily to limit the buildup of scale.
For more stubborn grime and dirt, it's best to have a gel or cream based cleaner on hand. These are applied and often left on for a period of minutes to encourage the cleaner to penetrate and dislodge the dirt. These are excellent for use on kitchen cooking grime, and for bathroom soap scum.
It's vital to keep your toilet clean in order to keep a clean household. There's nothing worse than a toilet that is any colour other than white! A toilet cleaner is applied just under the rim of the bowl, left for a few minutes, and then the toilet is flushed. This dislodges bacteria and some dirt from the porcelain and leaves a fresh smell in the air!
Hard floors should be mopped once a week, with a solution of water and an appropriate floor cleaner. Floor cleaners work both to dislodge dirt, and to sanitise the floor. We recommend using a solution that is specific to wooden floors if you have them, so as not to damage the natural grain or stain of the timber.
Gumption is a tough cleaning agent that can be used to remove much more stubborn stains on walls and other hard surfaces. If your general cleaning products are unsuccessful, Alpha Cleaning Supplies recommends the judicious use of gumption to tackle the problem!
Don't forget to store your cleaning chemicals somewhere safe where little hands and paws cannot get to them. It's also convenient to keep your cleaning product in an easily moveable box or caddy so you can move between rooms with your whole toolbox, rather than rushing between the kitchen cupboard and the bathroom.
Cleaning doesn't have to be a struggle! If you'd like to know more, come and see us in Cockburn to discuss more about the best way to clean house!