Tips For Cleaning Very Dirty Floors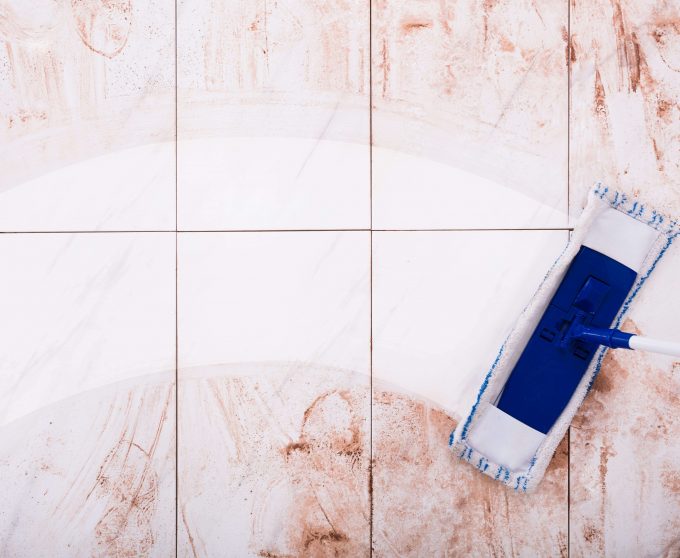 05/05/2021
It's important to choose the right cleaning chemicals when attacking floor spaces. In this article we give you a few tips on how to clean flooring indoors, outdoors and in the kitchen.
Inside Floors
Most of us spend our time between home and the workplace, often indoors. A clean environment is a productive environment, so it's important to focus on clean flooring. Here we have a look at a few items you can use for cleaning floors indoors.
Floor Scrubber – floors scrubbers are ideal for cleaning tiled surfaces either smooth or textured. Floor scrubbers are capable of removing the hard to clean stains and dirt between tiles.
Wax On, Wax Off – floor wax is very effective to give your floors a nice shine. There are plenty of different wax types that you can apply depending on what your floor surface material is.
Tile Protector – these solutions are specially made for protecting your tiles from grout and wear and tear. They will help make your flooring last a lot longer and keep them looking new.
Outside Floors
Concrete
Over time, concrete driveways or paths are bound to stain. So how do you get rid of the marks? There are 5 trusted chemicals that are perfect for cleaning concrete:
Soda – Yes, soda! This is because of three key ingredients found in soda: Carbonated water (or carbonic acid), phosphoric acid, and citric acid. They all work to free grease from concrete. Most people use Coke as their soda of choice for cleaning concrete, but any soda's with these 3 ingredients work. Pour the soda on the concrete and let it sit for about 15-30 minutes, then tackle it with a good outdoor scrubbing brush and some water.
Detergent – Detergent is recommended for smaller grease spills on concrete. Strong detergent and water in a bucket and a scrubbing brush will do the trick.
Vinegar and Baking Soda – This is a good option if you are looking for a natural cleaner. Even though cleaning concrete with a bleach or detergent can be effective, it can also be toxic to plants. So if you're cleaning your concrete and are worried about nearby plant life, this is your solution.
Concrete Cleaner/Degreaser – if you have quite porous concrete this method works the best. These cleaners are made from concentrated alkaline soap that will loosen up the oil for easy cleaning. They do not, however, work well on concrete that has been stained for a long time.
Bleach – for large areas, bleach works well. Simply fill up a bucket of warm water and use a little under a cup-worth of liquid bleach, mix and get mopping! Remember to wear protective gloves and don't mix bleach with any other household cleaners.
Decking
Decking often needs a bit more attention than concrete. But with the right deck cleaning products, you can completely transform the appearance of your decking – and keep it functional for years to come. Here's a step-by-step guide on how to rejuvenate your wooden decking.
Clear the area – start clearing everything from the surface of your deck and remove anything that might get in your way – such as chairs, tables, pot plants and the like. Now give it a thorough sweep to get rid of all the debris you can find.
Pressure wash – a high pressure hose is the best piece of equipment you can use to loosen and rinse away dirt and grime off your wooden decking. Be careful not to damage the wood by using the pressure washer on the lowest setting first and don't get too close to the decking with the nozzle.
Scrub and rinse – To avoid damaging your decking, create a gentle cleaning solution with warm water and liquid dish soap. Alternatively, you can use a speciality wood deck cleaner. Scrub it down, rinse off with water and wait for the deck to dry.
Treat and Reseal – to get rid of mould and algae, the best way to clean decking is with a ready to use a concentrated disinfectant treatment. Simply spray the disinfectant onto affected areas and let it dry. Once dry, apply a resealing product. Some sealers may include a waterproofing agent or mildew protection, so explore what product is right for you.
When you need to know it's clean, visit Alpha Cleaning Supplies. For an extensive floor cleaning supplies, Alpha are second to none. With over a decade of experience in supplying cleaning supplies and a strong focus on customer support, you can rest assured that you will be in safe hands with us. If you have any questions about our products, contact Alpha Cleaning Supplies or have a chat with our friendly team on (08) 9414 8777.
Related Articles:
Your Top 5 Sanitising and Safety Gear Essentials
The 6 Types of Safety Gloves and Their Uses