How to Safely Store Cleaning Chemicals at Your Workplace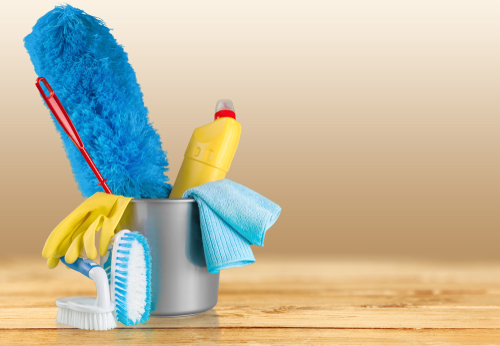 04/29/2020
Just as safe usage of cleaning chemicals is imperative to avoid injury, strict storage standards are similarly necessary to mitigate any risks.
Below we list out the important steps that must be taken to limit unsafe exposure to hazardous chemicals.
Obtain Safety Data Sheets (SDS)
A Safety Data Sheet (SDS) is a document that provides vital information about hazardous chemicals, such as ingredients, environmental effects and methods for safe handling.
It is required by law for all Australian chemical manufacturers and importers to a provide current SDS for each product. It should be located with or near all chemicals to ensure safety.
Make Sure Chemicals are Clearly Labelled
To avoid dangerous spillages and misuses, chemicals must be carefully stored. They should be labelled in a way that's easy to read and is permanent, and no chemical should be used if its container is unlabelled.
Additionally, storage areas such as cupboards should be named, and this categorisation respected.
Important Label Aspects
To minimise risk, labels should contain comprehensive information taken from the SDS.
This includes primarily:
– chemical name
– hazard class and category e.g. flammable liquid, Category 2A
– pictogram and code, with explanations
– signal word that identifies the chemical risk e.g. warning, danger
– precautionary statements
While chemical containers generally have this information already displayed, it's important to check and provide it should it not be present.
Safely Store Chemicals
Safe chemical storage under strict standards is imperative, especially for professional cleaners.
All chemicals should be placed in a secure container and location according to their specifications. For example, flammable and combustible goods should be stored in a cool place away from flames, heat and sun, while corrosives must be stored separately to prevent potential reactions.
Additionally, storage height and location should be carefully considered. Heavier containers should be stored close to the ground to avoid potential falls. Similarly, since liquids are more likely to leak, they should be stored below powders.
Finally, all chemicals must be secured away from food preparation areas and children, and each storage area should be kept clean to prevent contamination.
Store in Well-Ventilated Areas
Chemicals may omit odours that cause eye, nose and throat irritations, headaches or nausea. These are printed on the SDS, and since they may affect health in the workplace, they must be minimised.
It is therefore vital that chemicals are stored in areas with good ventilation to lessen potential odour leakage, especially if the space is multi-use.
Why choose Alpha Cleaning Supplies?
As a local family business serving happy customers since 2004, at Alpha we take pride in offering exceptional service and great value for money. Starting out as cleaners ourselves, we take safety provision personally, and as a leading commercial supplier we understand the importance of tailored business services.
For more information on our range of products, and to see how we can help your business, don't hesitate to contact us today on (08) 9414 8777 or online.