How To Clean 5 Hard To Reach Places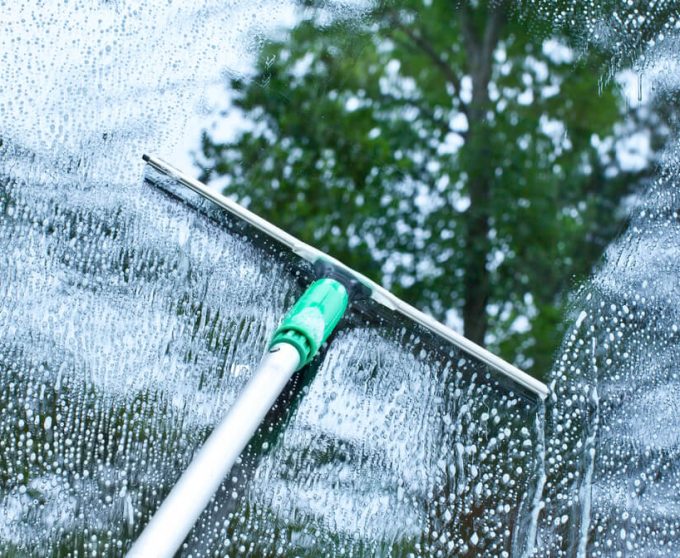 11/01/2020
It's time to clean from top to bottom because out of sight, out of mind isn't a wise philosophy to accept when it comes to cleaning. To make it easier, we've put together a handy list of how to clean 5 hard to reach places, from window blinds to ceiling fans.
Window Blinds
Window blinds easily accumulate dust. To clean them, close the blinds and dust, then reverse the blinds and clean the other side. If there's a build-up of grime that needs more than just dusting and you're not sure what products will work best to remove the build-up, contact Alpha Cleaning Supplies and our team will gladly recommend the most effective products.
High Window Panes
Cleaning your high window panes should be a planned process. Firstly, evaluate the weather. You'll want a warm sunny day with minimal wind. Next, evaluate if it'll be safe to use a ladder. You will require flat ground, good weather conditions, and somebody to hold the ladder in place to ensure no accidents occur.
If you decide against using a ladder, use a squeegee with a long handle. You can also use the squeegee with a ladder to make it easier. Before cleaning, remove any visible dirt and debris. You can do that with a small, hand-held portal vacuum cleaner.
Once that's done, you can properly wash your windows. (Related Article:  Cleaning in all the High Places)
Window Cleaning Supplies You Will Need
Before you get started, take a look at this list of window cleaning equipment and supplies you'll need to complete the job:
Bucket
Mild detergent, alongside other cleaning chemicals if the windows require a more thorough clean
Sponges
Rubber gloves
Chamois, cloths
Ceiling Fans and Light Fixtures
Say no to step ladders and chairs and invest in a duster with an extendable handle. We recommend disposable dusters over feather dusters: they'll pick up the dust better, instead of simply moving the dust around.
Heating and Air Conditioner Vents
If your heating and air-conditioner vents look like they're wearing a coat made of dust, then some heavy-duty cleaning is in line. Remove the vent and wash away the dust. You may need to rinse or soak in warm soapy water, especially if there is grime and grease build-up present.
Doing this will increase the efficiency of your air-circulation, and help your system work better. Ensure safety while cleaning by reading our post on top 5 sanitising and safety gear essentials.
Showerheads
Just like any other appliance, your showerhead requires the occasional clean. When it comes time to clean it, use a scrubber sponge to wipe away the build-up, then mix equal parts white vinegar and water and let the showerhead soak. After 15 to 20 minutes, remove the showerhead and wash it.
If any stains or soap scum remain, Alpha Cleaning Supplies can help you finish the job.
Why choose Alpha Cleaning Supplies
Tackle those hard to reach places, from windows to heating vents, with Alpha Cleaning Supplies. Also read our related article on: 3 Tips For Choosing A Commercial Cleaning Company
Alpha Cleaning Supplies has been supplying high-quality, reliable and effective commercial cleaning products for over a decade. We believe in exceptional products and customer service, so you can rest assured that you will be in safe hands with us. If you have any questions about our products, contact Alpha Cleaning Supplies or have a chat with our friendly team on (08) 9414 8777.