Cleaning In All The High Places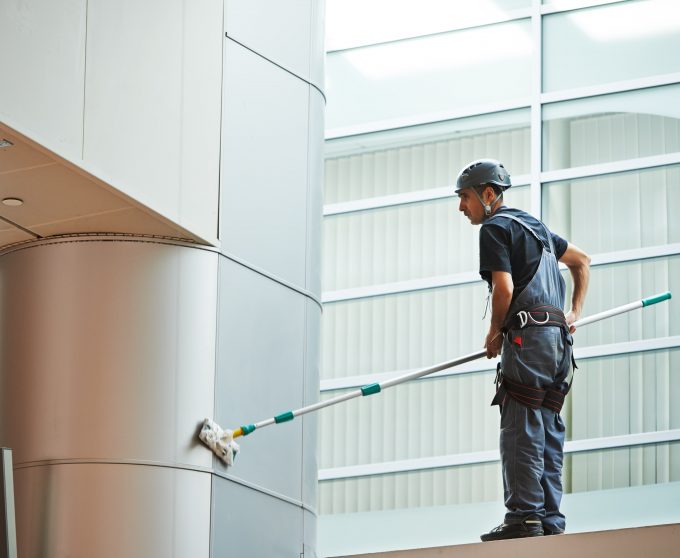 03/30/2021
Trying to clean the windows on your house from the outside? Or maybe you have some windows up high at the office that need attention? Or maybe it's those pesky skylights you have set your sights on. Whichever hard-to-reach window you are trying to clean, the problem is bound to be the same. Let's take a look at what's required to easily and efficiently make those windows sparkle.
Cleaning a window or different type of glass that is hard to reach is always going to be difficult. You may have thought about using a ladder, chair or step stool along with some paper towels, cleaning cloths or sprays of some sort. You may have even given it your best shot with those items before deciding that there must be an easier way.
Before you give up and resign yourself to looking out of dirty windows for the rest of your life or call in the professionals; let's find out a quick and easy way to wash any up high windows.
THE RIGHT TOOLS
Firstly, a microfibre cloth is the best way to clean any piece of glass because they work fast, won't leave marks, and allow you to do the job without any harsh cleansers or other chemicals. You can even get specially designed window cloths that have microfibre on one side and a synthetic chamois on the other so you can clean and dry using the same cloth.
While these work for all of the windows and mirrors you can reach, they are just about useless for all of those tall ones. In some cases you could use a ladder or something to boost yourself high enough to use one, but this can be a pain, and in some cases scary or dangerous.
Plus you are not even guaranteed to be able to wash every pane. So wouldn't it be perfect if you could just stick one of these cloths onto the end of a pole? Well, sort of. There are products out there that use the same concept but are far more advanced and easier to use. With the addition of a squeegee, the microfiber cloth spreads lengthwise at the end of a long extension pole allowing you to apply pressure evenly across for quick and effective window cleaning.
The flexible squeegee allows you to dry windows after they have been cleaned, leaving them spotless. By attaching the window washing tool to a telescoping pole you can reach almost any height and it can also be removed to quickly wash the ones down low too. Simply remove the extension pole and hold it in your hand instead.
So for all your purpose built window cleaning supplies and more, Alpha Cleaning Supplies are a one-stop shop for all your residential and commercial cleaning. For commercial cleaning products that are reliable, hypoallergenic and carcinogenic free, contact Alpha Cleaning Supplies today. With over a decade of experience in supplying cleaning supplies and a strong focus on customer support, you can rest assured that you will be in safe hands with us.
If you have any questions about our products, contact Alpha Cleaning Supplies or have a chat with our friendly team on (08) 9414 8777.
Related Articles:
Tips for Getting Your Windows to Look Spotless
How to Clean Your Commercial Cleaning Equipment