Get Rid of Glass Stains Properly With These Tips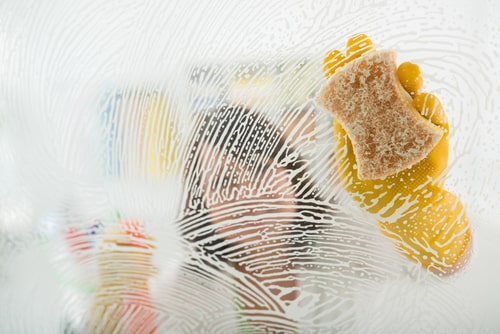 08/26/2020
Is the chalky white residue on your shower door making your bathroom look unhygienic and dated? These hard water stains can be difficult to remove. However, once they're gone, you will be surprised by the results. To learn how to get rid of these stains properly, and what the best window cleaning equipment is to use, check out this post.
What are hard water stains?
Hard water stains are stains left on the glass after hard water has evaporated. This leaves minerals such as magnesium and calcium on the glass creating chalky marks. This can be troublesome in bathrooms as soap, and hard water creates a more significant build-up. Hard water can also affect glass doors or windows on the outside of the house if they get splashed by sprinklers.
How to remove hard water stains
The best way to avoid hard water stains is to squeegee the glass dry after every use. This stops the water from sitting on the glass and drying on it. However, to thoroughly remove these stains, it is vital to clean the window or glass first and make it completely dry with a squeegee. Make sure your window or glass is not in direct sunlight and is not hot before you start. Then use a non-abrasive white scrubbing pad to scrub a stain remover in all directions. As the stain remover is a chemical substance, you must protect other materials, such as metal or stone surfaces from this cleaner. Otherwise, it can make marks on those surfaces too. Make sure you do not allow the stain remover to sit on the window frames, continue to wash it off with water as you go.  Of course, ensure you test this method on a discrete area of the glass before you do the whole area, as this can help avoid mishaps. (Also read:  Your Top 5 Sanitising and Safety Gear Essentials)
The best window cleaning equipment to keep your glass looking spotless
It's important to remember that you will need quality window cleaning equipment and supplies to clean hard water stains properly. This includes a good quality hard water stain remover, a soft scourer, a squeegee, a bucket, rags or cloths, gloves and any other personal protection equipment you would like to wear to protect yourself from the hard water stain remover. You can find all of this equipment on Alpha Cleaning Supplies website.
Why choose Alpha Cleaning Supplies?
You should choose Alpha Cleaning Supplies for all your cleaning needs because we are the best window cleaning equipment suppliers in Perth. With over a decade of experience, there is no doubt that you are in safe hands with Alpha Cleaning Supplies. If you would like to start cleaning your windows and glass today to get rid of hard water stains, then contact Alpha Cleaning Supplies and have a chat with our friendly team on (08) 9414 8777.
---
Related Articles: 
How to Clean 3 Hard to Reach Places
What Equipment Do I Need to Start My Commercial Cleaning Company