Colour coded cleaning: What is it?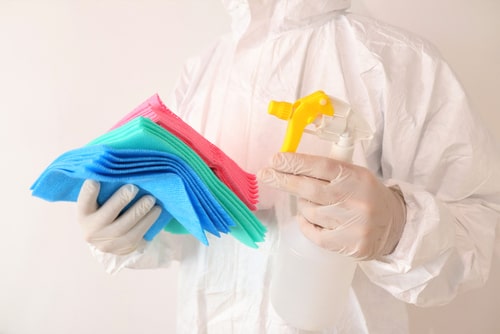 08/26/2020
Do you want to make your cleaning system more hygienic and easier to understand? Then check out the colour coded cleaning method as described in this blog post and where you can find a trusted cleaning equipment supplier in Perth to get products which follow the code. This colour coded system can help take the stress out of organising your cleaning products and equipment as you don't need to worry about where the equipment has cleaned.
What is colour coded cleaning?
Colour coded cleaning is a process where certain areas of a home or workplace are assigned a colour. Which means only cleaning equipment with that colour, can be used to clean the specified area. This is primarily used to prevent the spread of germs from one area to another. The main cleaning equipment which is divided for these areas is cloths, sponges and mops.
Who uses colour coded cleaning?
Places such as restaurants, healthcare centres and catering businesses where food hygiene is paramount often use colour coded cleaning. This is because it prevents instances such as a mop from being used in a kitchen and the toilets. It is also used in corporate settings, especially where different cleaners are coming in every week or are on a rotation. This makes it easy to learn and follow the system. This system has become so popular that cleaning equipment suppliers, such as Alpha Cleaning Supplies, sell supplies in these colours to make the process easier.
The colour system
There are four colours used in the colour coded cleaning system. These are blue, green, red and yellow. Blue represents cleaning equipment to be used for general cleaning. This includes lower risk areas such as offices, classrooms and hallways, but not food preparation areas. Green represents the kitchen and food preparation areas which includes bars and even factory food processing areas. Red is quite appropriately marked as red often signifies a hazard, and the red cleaning equipment is used for toilets and bathrooms, where there are more germs, and harsher chemicals are used. Yellow represents infection control, so it is used to clean washroom surfaces such as sinks, mirrors, tiles and glass. Yellow is essential as it is used to clean taps and sinks in bathrooms. This stops nasty germs from toilets being spread on to taps and vanities.
Why choose Alpha Cleaning Supplies?
Alpha Cleaning Supplies is the most trusted cleaning equipment suppliers in Perth. They offer a great range of colour coded cleaning equipment which makes using the colour coded cleaning process a breeze. With over 10 years of experience in the industry, the team at Alpha Cleaning Supplies know what it takes to create a healthy and clean environment. For more information about our full range of cleaning equipment, get in contact with Alpha Cleaning Supplies today on (08) 9414 8777.