Tips for Getting Your Windows to Look Spotless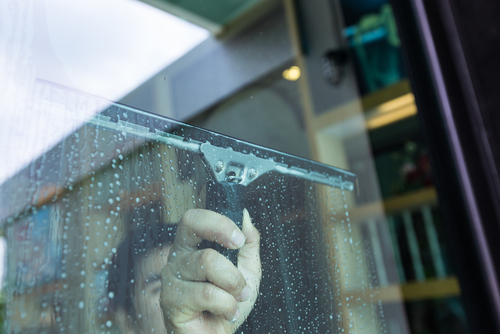 05/06/2020
Have you ever cleaned a window and had smudges remaining stubbornly on the surface?
Cleaning windows can be difficult, especially in our dusty country, so to get a spotless finish you need the right cleaning products and technique.
At Alpha Cleaning Supplies, we know how to make windows sparkle, so check out our recommendations below!
Cloudy, Dry Days are Best
When it's hot and sunny, soapy water will evaporate very quickly, leaving residue on the windows. Rain can also leave spots of dirt, so if you can, choose dry overcast days.
In Perth, however, we're blessed with a sunny climate, so if your windows need an urgent clean, work in the shadows as they move.
Get the Right Equipment
You've picked your day, you've got your bucket, but there are so many commercial cleaning products available, how do you choose?
Professional cleaning is best performed using specialised glass cleaners and fast-drying products for sunnier days, such as our own range, Palace.
For the scrubber or sponge, choose one that allows you to wipe at all angles. Ensure you squeeze out most of the soapy water prior to wiping to stop excess dripping.
To dry your windows, we recommend using a squeegee. Wet it, then press firmly against the window, moving in horizontal or semi-circular strokes, tilted at 45 degrees to direct the suds down.
Clean your squeegee with an old towel between strokes to minimise dirt transference. Unlike wiping with a cloth, this technique ensures your windows are left spotless and sparkling in less time!
Finally, wipe any remaining streaks, especially near the edges of windows, with a microfibre cloth.
Still seems like a lot of choice? Take a look at our carefully selected inventory of professional window cleaning equipment to find all the best products in one handy location.
Clean Dust and Dirt Off First
If any dust, dirt or cobwebs are still present on the windows when you start cleaning, you'll get a muddy mess which will make your work more difficult.
So, before you start, ensure you remove any material using a brush or old cloth.
Don't Neglect Window Frames and Screens
To give your windows a thorough clean, don't forget the windowsills, frames and screens. After removing any dirt, cobwebs or leaves, wipe the surfaces using the same sponge/scrubber and detergent mixture as the windows. Make sure you quickly dry any wooden frames at the end (Get more tips at a related article: How to Clean 5 Hard to Reach Places).
Why Choose Alpha Cleaning Supplies?
As a local family business with over a decade of experience, we're a leading commercial supplier who takes pride in offering exceptional service and great value for money for all your cleaning supplies. Starting out as cleaners ourselves, we understand the importance of providing quality products and service tailored to your business.
For more information on our range of products, and to see how we can help your business, don't hesitate to contact us today on (08) 9414 8777 or online.
---
Related Articles: 
How to Clean Your Commercial Cleaning Equipment
How to Effectively Clean Hard Water Stains Off Glass