Cleaning Guide for Catering Businesses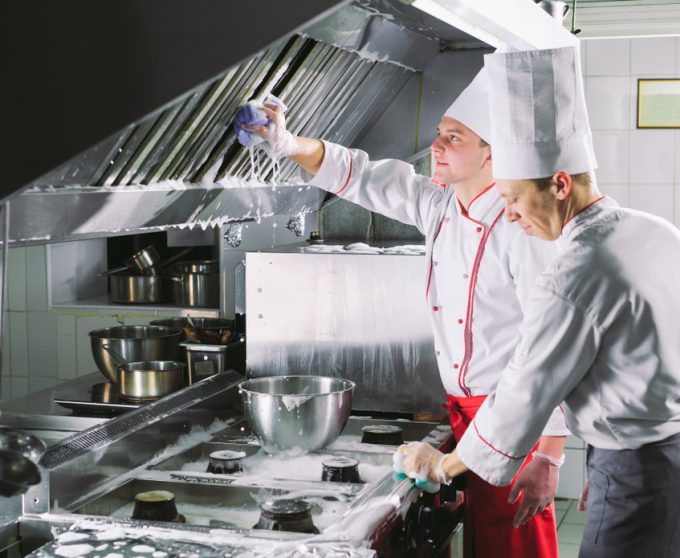 10/30/2019
Commercial kitchens are subject to some of the most stringent hygiene laws and regulations in business. This is extremely important from a public health perspective, so it is vital that catering businesses are able to clean their kitchens in a manner that achieves the regulatory standard.
Alpha Cleaning Supplies provides a complete range of cleaning supplies and equipment for businesses in Perth, but we are also keen to provide our clients with the means and understanding to keep the highest standard of food hygiene, so they can continue to provide quality food to Perth residents.
Commercial kitchens must regularly and rigorously clean floors, sinks, walls and bunch surfaces. However the commercial cooking equipment that is particular to a catering business may require more specific efforts. Below we will outline some of the common kitchen equipment that may need cleaning, and how we advise our patrons to use our products to achieve the best clean they've ever seen!
Sinks and surfaces
Water is almost always running in a commercial kitchen sink, so it's easy to imagine that it is more or less clean. However, even without obvious signs of debris or scum, bacteria may be adhering to microscopic food particles and creating colonies. We recommend using an industrial grade disinfectant daily to drastically decrease the pathogen load in a sink.
Surfaces do not see as much water flow, so it is important to disinfect these regularly too. But it is also important to note that food debris may collect in corners and angles where surfaces meet, and this can encourage bacterial growth. So it is advisable to brush these locations daily to remove this possibility.
Fryers
While the high heat oil in fryers is good for destroying bacteria, it is even better at collecting food particles and burnt ends. It is highly recommended to regularly drain fryers, clean with a heavy-duty soil removing agent that can emulsify the grease for easy removal. This followed with a disinfectant and thorough rinse will ensure your fried food remains safe and clean.
Ovens, Grills, Stoves and Broilers
These pieces of equipment see a great deal of use and therefore collect a great deal of food matter across the day. Further, they are often exposed to non-visible sources of dirt like smoke and vapours and these can affect the taste of food. Alpha Cleaning Supplies recommends that this equipment is cleaned daily. Mechanical removal of debris with a brush, especially grills, followed by a cleaning agent in gel or cream form that will effectively tackle built on grime and soil. Oven cleaner should be used where appropriate, at least once a month to effectively remove grime and keep a consistent standard of food preparation. (Also Read: What Equipment do I Need to Start My Commercial Leaning Company)
Handy tips!
Remember to rinse well after using a cleaning product.
Rough surfaces are the first to collect dirt
Use the right tool for the job! Ask us if you're not sure
Being thorough saves time in the end.
Alpha Cleaning supplies has everything you need to bring your kitchen to the highest level of hygiene and keep your food clean and safe. Give us a call if you'd like to know more, or come and see us at our store in Cockburn!
Related Articles:
The 3 Steps to Building Your Janitorial Supplies
How to Clean 5 Hard to Reach Places