Starting A Cleaning Business: What You Need To Know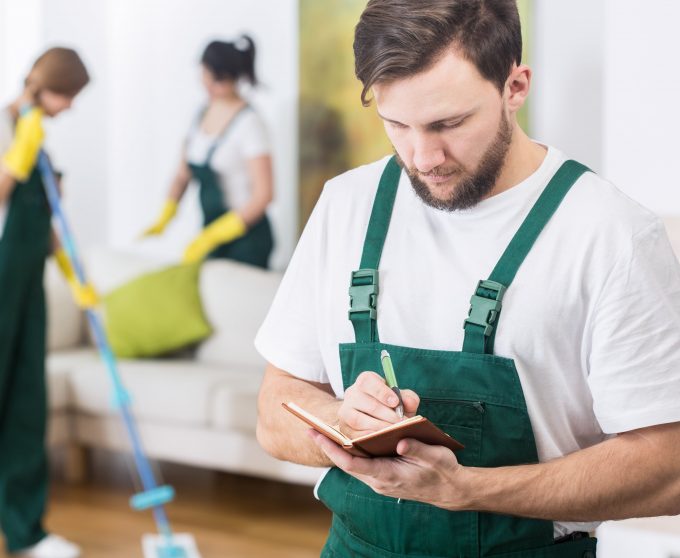 06/05/2021
Interested in pursuing a career in the cleaning industry but don't know where to start? An inexperienced individual may assume that the cleaning industry is just about "cleaning" but there are many facets of it that one could pursue specifically and grow from. Let's take a look at what types of cleaning businesses are out there and how you can get one off the ground.
Types Of Cleaning Businesses
Here we look at 3 types of cleaning services that a budding entrepreneur may be interested in when starting up a cleaning service:
General Office
This heavy duty niche service requires teamwork and proper planning and execution. General office cleaning means cleaning kitchens, communal areas, carpets and more. Because offices have more foot traffic than a regular household, cleaning needs to be done regularly and thoroughly.
In this industry, it is important to have a trusted and reliable set of employees, as more often than not cleaning crews will enter a job and split up the workload since there is so much that needs to be done and also so much ground to cover.
Often building owners and corporations are after already established cleaning companies to take on general office cleaning contracts; therefore, you might find there is greater success in franchising than starting one from scratch — unless you are thoroughly confident in your ability to provide a unique service that stands you out from your competitors. If that's the case, then your cleaning company may just thrive quickly.
Window Cleaning
While most general cleaning companies do offer window cleaning as part of their services, a cleaning or janitorial business that specialises in window cleaning means that you offer quality and specialised services.
Focusing on window cleaning means you can reach out to clients that are both commercial and residential. In running a window cleaning business, you'll have to be a person that enjoys the outdoors and isn't afraid of heights.
To succeed in this niche cleaning market, your company needs to offer services beyond that of ordinary companies who include window cleaning in their packages.
When it comes to succeeding you'll need to be able to offer competitive rates but more importantly demonstrate how utilising an industry specific service for window cleaning to get the job down is definitely the best route to go. (Also read: Cleaning in all the High Places)
Disaster Cleaning and Restoration
This type of cleaning involves homes, buildings and prized possessions subject to damages that are beyond reasonable control. This includes things like earthquakes, flooding and house fires, so having a company that focuses on disaster cleaning and restoration means that you are part of a sector that requires expertise in fire, water and smoke damage cleaning.
In this niche, many companies work in tandem with insurance adjusters and other contractors to get the job done. Another benefits of being in the disaster cleaning and restoration sector is that you are part of a process that helps rebuild lives that have been affected by a disaster, meaning it can be quite a rewarding occupation.
How To Set Up A Good Cleaning Business Model
Do the Initial Cleaning Jobs Yourself
When you consider how to start a house cleaning business or how to start a maid service, you might feel tempted to begin with staffing, but one of the best ways to start is actually by doing most of the work yourself. Instead of investing money in hiring workers, you can pay yourself a reasonable wage while you work out any kinks in your business model and determine best practices for your company. After all, you need to learn the business before you can successfully run it from afar.
Set a Reasonable Cleaning Business Budget
Determine a reasonable budget for your business, including the replacement of products and equipment as necessary. Factor hiring and payroll costs into the equation if you outsource labour, but also keep in mind you need to set aside money for taxes and insurance as a business owner.
Aim to pay yourself an hourly wage, set aside money for cleaning equipment and calculate estimated taxes so you can prepare for successful business ownership. If you neglect to set money aside for taxes, your business budget will quickly disappear.
Choosing The Right Cleaning Equipment
Think about the types of materials and cleaning products you need for cleaning clients' homes and businesses. You will need cleaning solutions and spray bottles, sponges and scrubbers, protective gloves, disposable or reusable towels (or both), and housekeeping tools such as mops and brooms.
Consider what type of cleaning products to buy: will you use bleach and other traditional cleaners in clients' homes or offices, or are you planning to use environmentally friendly or other "green" products? (Also Read: Do Eco-Friendly Cleaning Chemicals Really Work?)
Choose A Name
Any startup cleaning business needs to establish a brand. Choosing a brand name might just be the most enjoyable part of owning a cleaning business. You can use a play on words, part or all of your name, a quirky or fun nickname, or something based on your geographical location or the specific type of cleaning services you offer, whether it's residential cleaning or commercial cleaning.
While deciding on a business name, you should search online for the names you like. If another company already has the same name as you, you should find out sooner rather than later. Legal issues with using another business' name—even if you do it unintentionally—can cost you.
Setup Proper Licensing
Once you choose a business name, you need to register the name to prevent others from using it. The requirements vary based on your state and local legislation, so check to make sure you follow your local ordinances for businesses.
You will need a license and possibly permits for your business, especially if you opt for a name other than your own to operate under.
Start Marketing Your New Cleaning Company
After you decide on a name for your cleaning business and purchase all your cleaning supplies, it's time to find clients. Marketing for a cleaning company can be as simple as word of mouth or as complex as running advertisements on social media or in digital or print media. If you're unsure how to advertise yourself, try contacting a digital marketing agency to help guide you.
Quality Cleaning Supplies
When starting up your very own cleaning service, look no further than Alpha Cleaning Supplies. For fit-for-purpose cleaning equipment for residential and commercial cleaning and more, Alpha Cleaning Supplies is your one-stop shop. For commercial cleaning products that are reliable, hypoallergenic and carcinogenic free, contact Alpha Cleaning Supplies today. With over a decade of experience in supplying cleaning supplies and a strong focus on customer support, you can rest assured that you will be in safe hands with us. If you have any questions about our products, contact Alpha Cleaning Supplies or have a chat with our friendly team on (08) 9414 8777.