The 3 Steps To Building Up Your Janitorial Supplies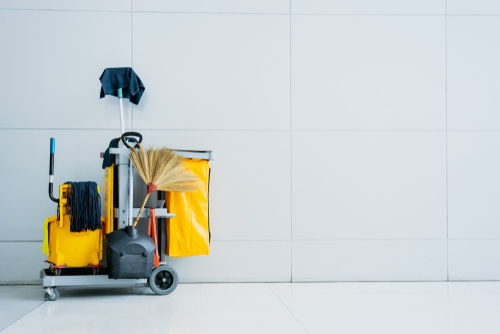 11/26/2019
The best thing you can be in a janitorial role is efficient. Making sure you can move from task to task quickly, having completed each thoroughly is vital to keeping a business or workspace operational, so its vital that you have the right tools for the job at hand at all times. Here are the three keys to making sure you're the meanest, greenest cleaning machine!
Invest in larger cleaning equipment
While this can be a significant financial outlay, the time and energy saved by high-quality, reliable cleaning equipment is almost immeasurable. In the time you save with the right tools, you will very quickly make up the money you spend on them.
Select tools that are designed for commercial and/or industrial use, and that have a reasonable warranty. The last thing you want is to choose a cheap, unreliable vacuum or polisher, only to have it break after a week and with no recourse to repair it. Alpha Cleaning Supplies has an excellent range of reliable janitorial supplies and equipment that are specially designed to serve this purpose.
Ensure You Have All The Smaller Tools and Consumables
The majority of your work will in fact be performed with the smaller janitorial supplies like spray bottles, cloths, brooms, rubbish bags and so on. It's important to have a good supply of these at all times so you are never left in the lurch, unable to complete a task due to lack of the consumables. We can discuss your specific janitorial needs and help you find the right selection of tools and equipment for your janitorial needs.
As you become proficient in your role and within the sites you attend, you will get a feel for what each location needs for the best possible outcome and most efficient processes. But if you are ever in doubt, feel free to give us a call to discuss how our janitorial supplies can be used in your work.
Choose Your Chemical Cleaners
Not every task can be handled with an all-purpose cleaner. It's important to have a wide selection of chemical agents at your disposal, and to be well versed in their uses, so you can apply them in the right situations. We recommend our clients invest in a steady stream of all-purpose cleaner, bathroom cleaner, glass and tile cleaner, toilet cleaner, floor cleaner, and stronger chemical agent like Gumption for more stubborn stains or grime. We also recommend a deodorant chemical for situations where organic materials may build up and cause unpleasant smells.
Janitorial work is at its best when people don't even know it's happening! The key to ensuring this is ensuring that it never stops happening, and sites stay clean at all times. In order to achieve this outcome, you need to have what you need at your fingertips, and Alpha Cleaning Supplies can make that happen for you. Come in and see us in Cockburn so we can help you streamline your janitorial processes.