6 Types Of Safety Gloves And Their Uses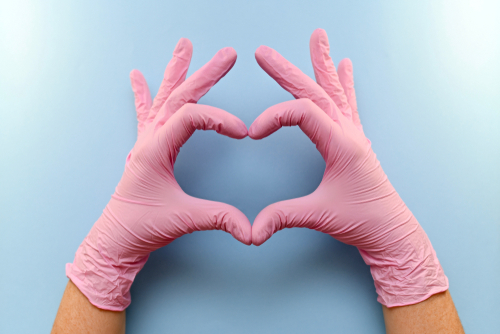 11/20/2019
Cleaning and sanitation necessarily involved chemicals and mechanical abrasion. Some chemicals are harmless in small doses, but exposure over long periods of time may be harmful. Some chemicals are toxic in small doses. And mechanical abrasion, especially done regularly and consistently, may cause injury to the skin. And even in food prep, the presence of blades and hot surfaces can be hazardous.
Safety gloves are designed to protect you in various ways from these dangers.  Alpha Cleaning Supplies has a range of safety gear that is made readily available to private and commercial consumers, including a reliable range of safety gloves that we feel serve our clientele well. Below we'll outline some specific types of gloves, and how they are best used during cleaning.
These are perhaps the most common type of disposable glove that is seen on the market. These are commonly used in food preparation, in low-hazard scientific labs and in lighter cleaning scenarios. Alpha cleaning supplies offers this type of glove, made from 100% natural rubber latex, which is sourced from rubber trees.
While these may suit the majority of people, latex allergies are more commonly recognized, so it is important to have on hand some other options for those who cannot use these.
Nitrile rubber, as opposed to latex rubber gloves, are less likely to cause an allergic reaction in those who are susceptible, so these are a great option to have on hand as an alternative. But it's also tougher and more resilient than latex rubber, so it's great to have these on hand for tougher cleaning jobs that may require more mechanical action or abrasion.
These gloves are perhaps most commonly found in tattoo parlours where needle stick injuries are a serious risk for tattoo artists. Heavy duty nitrile gloves are resistant to this type of injury, and in black they look cool too! We recommend the use of extra heavy duty nitrile gloves in situations where physical injury from small, sharper objects is possible, and where more concentrated chemicals are in use, such as in commercial painting, automotive and hydraulic works, and in hair colouring.
These gloves are designed to be used in commercial washing scenarios such as dishwashing in commercial kitchens, car washes, dog washes and so on. The silver lining makes these gloves particularly easy to put on and take off, and the thick rubber protects the hands from abrasion and fat buildup.
These gloves can be particularly useful where heat insulation is necessary, and where larger, thicker gloves are in use. A cotton liner can prevent the larger protective glove from slipping, which limits precision of movement and may cause abrasive injury. They are also useful for those who are allergic to all types of rubber, and can be used to line a thinner glove and prevent the skin from coming into contact.
These are commonly seen in the food preparation industry. They are ideal for situations where there is a need to change gloves often due to handling different materials, but a high level of protection is not necessary. They are also a cheaper option than the nitrile or latex gloves.
If you have any questions about gloves and safety gear for your Perth business, please feel free to get in touch with us! We're always happy to help you stay safe.
---
Related Articles: 
Essential Safety Gear for Cleaners
How to Motivate Your Employees to Wear Their Safety Gear