10 Cleaning Supplies Professionals Always Buy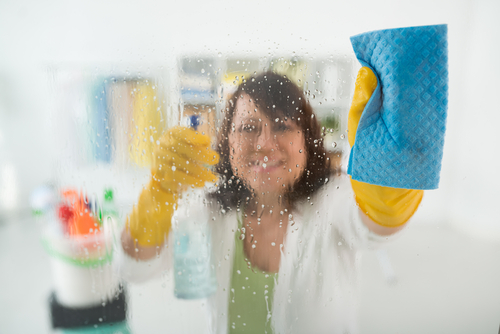 12/04/2019
Basic cleaning isn't hard, but if you want to do it like a pro, you need the tools the pros use! Luckily Alpha Cleaning Supplies has got you covered. We've compiled a list of the 10 cleaning supplies our professional clientele most often buy, so you can know what really works in the real world and make it work for you!
These products are great to have on hand for larger spills, especially on floors. A rinse can be applied to almost any surface though, and it doesn't pose the same risks to more sensitive materials in the way bleach does.
Western Australian water is somewhat hard, meaning there is a significant presence of minerals in the water. While this has its benefits, there is a tendency for the minerals to lodge themselves on surfaces where water is regularly running, like showers, toilers and sinks. A good scale remover should be regularly used to keep glass and porcelain clear and smooth.
While toilets are famously not as dirty as we think, that does not mean they are clean! A bleach based toilet cleaner should be used at least once a week depending on the frequency of use of the toilet itself. This is important for destruction of organic materials that harbor bacteria and cause odours.
Separate from a scale remover, a glass and tile surface cleaner is designed for more regular use. Specifically, it prevents streaking which can make a bathroom look dirty even though it is technically clean.
Most of your cleaning needs will in fact be met by a basic, all-purpose cleaning agent that is predominantly alcohol based. A cleaner like this is not too concentrated so it will not harm your materials and surfaces when used every day, but is enough to ensure your safety and hygiene.
A cream or gel based cleaner for stainless steel appliances is a must in most modern homes. Stoves, ovens and fridges look stunning in stainless, but they do have a tendency to show up grime and oil. A good steel cleaner will remove this.
Magic erasers are a wonderful little tool to have in your back pocket. They are very efficient at absorbing out stains and grime that seem intent on staying put!
Locations with high humidity and water flow are prone to mould growth. This is not only unsightly, but can be harmful, such as with the growth of aspergillis mould. It's vital to have a good mould killing agent on hand.
While sweeping gets some of the job done, there are some corners of the house that just can't be swept. Selecting a strong, good quality vacuum cleaner is a true investment in your convenience and home hygiene.
While this might sound like a home remedy, it actually works in a surprising number of situations. When combined with baking soda, it's a powerhouse! It never hurts to have some vinegar on hand.
If you'd like to know more about which cleaning supplies you need, don't be shy, come visit our store in Cockburn. We'd be happy to see you.