Must Have Office Cleaning Supplies for Clean Workplaces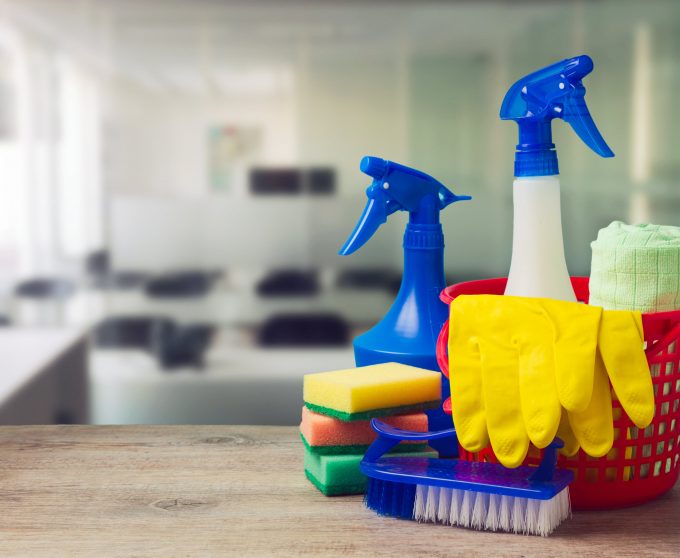 06/22/2021
If the spread of COVID-19 has taught us anything, it's that personal hygiene and clean office spaces are essential to stopping the spread of disease. The new normal for people around the world heading back to the office is more-frequent cleaning, limiting exposure to high-touch surfaces and an increase in sanitation. For the cleaning industry, this means adding few extra routines and products to the cleaning list.
So what do you need to do for the new clean office space? As a cleaner or a manager, you should create an office safety and health plan. This is a routine that your staff and cleaners can adhere to, to minimise the transmission of bacteria and viruses.
Firstly, you should map out the foot traffic through certain areas of the workplace, and consider the ways in which space is used-or not; during the process you may even uncover ways to improve or maximise your space usage as a side-benefit. For instance, you may find areas you don't need have cleaned.
Secondly, look through your office area and note the 'high-touch areas'. Some of the typical transmission vectors that have been uncovered are:
    Countertops
    Chairs
    Tables and Desks
    Doorknobs
    Light Switches
    Cabinet Handles
Other high touch areas to consider are:
Staplers, Tape dispensers, Cups
Coat-racks and hangers
Fixtures
Elevator Buttons
Phones, Computer Accessories
Appliances
Digital Touch Screens
Coffee Stations
Bathroom Fixtures
Rubbish Bins
Changing stations and convenience item dispensers
Speakerphones, Remotes
TV's and Projectors
Whiteboard Accessories
Promoting Workplace Hygiene
Since social distancing practices have already been implemented, this is something employees will already be used to. Try posting up a 'healthy habits' checklist around the office to help get people into the habit. The checklist could include:
Placing disinfectant wipes, hand sanitiser, face masks (if needed), paper towels and rubbish bins in strategic positions around the office.
Get staff into the habit of quickly wiping down surfaces
Implement hygiene practices as part of corporate communication
Consider automatic or 'touchless' office system upgrades such as motion-detecting lights, towel dispensers and hand dryers and hand sanitiser dispensers
Encourage hygiene practices such as hand washing and other respiratory hygiene practices
Keep hygiene supplies stocked and easily available
What Cleaning Tools do I Need?
A Respiratory Mask and Protective Suit – in case you need to disinfect the office
Why Alpha Cleaning Supplies?
Alpha Cleaning Supplies has been supplying high-quality, reliable and effective professional commercial cleaning products for over a decade. We believe in exceptional products and customer service, so you can rest assured that you will be in safe hands with us. If you have any questions about our products, contact Alpha Cleaning Supplies, or have a chat with our friendly team on (08) 9414 8777.