8 Essential Items and More for Your Commercial Cleaning Supply Toolkit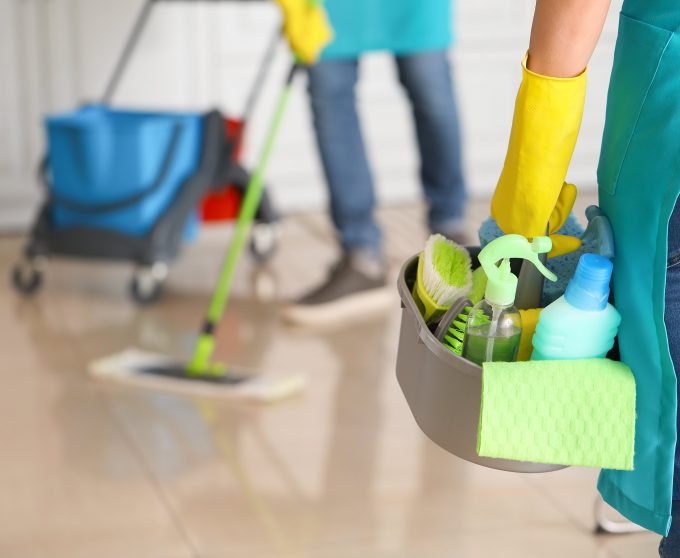 04/15/2021
Much of commercial cleaning supplies are the same as those you would use at home. Here we look at the 8 most important pieces of office cleaning equipment and some extra ones that help you do a more efficient job of cleaning commercial spaces.
These cleaning supplies are used for wiping and dusting off dirt. Paper towels are used for general quick cleaning purposes, are convenient, disposable, easy-to-use and hygienic. Microfibre cloths are great re-usable supplies to clean and wipe glass, desk surfaces, cabinets and kitchen appliances.
Rubbish bags are essential for cleaning up office rubbish and come in a variety of sizes to fit over bins. They are lightweight can handle wet and dry rubbish. Usually, trash bags are made up of plastic and are available strengths, densities and puncture resistance.
These are used to keep restrooms clean and it's best to have a variety on hand to clean bathroom sinks, floors and toilet bowls. They can come as aerosols, liquids, powders and sprays and are effective at disinfecting surfaces and cleaning stubborn stains and residue.
Gloves are necessary protective wear and should be worn by all commercial cleaners when dealing with chemicals. This helps protect your workers health and controls infections. Gloves come in latex, nylon and nitrile depending on what cleaning chemicals you are using.
There's nothing like a good industrial vacuum cleaner to quickly and efficiently clean floors and upholstery. It also helps remove dust and other allergens in office environments to protect people's health.
These handy sprays are perfect for making your cleaning environment smell fresh once you've finished. They also get rid of undesirable odours in places like the kitchen and restrooms. Air fresheners also neutralise the air by removing allergens and other pathogens.
Glass cleaner is perfect for cleaning desk surfaces, windows and other glass surfaces. Strong glass cleaning solutions are effective at cleaning and disinfecting even the dirtiest of surfaces.
For all your dry cleaning purposes, a dustpan and broom get rid of dust and easily and effectively. Long-handle brooms can reach those hard to get places such as the top of high up surfaces that are difficult to clean with a vacuum cleaner.
Other Cleaning Equipment
On top of the essentials, there are some other cleaning tools that make the job easier. For instance high pressure hoses are very effective at cleaning tiles and outdoor areas.
Commercial-grade cleaning chemicals are often quite affordable solutions that will last longer than those that come in sprays.
Commonly used for outside areas high-pressure washers are very good at getting of dirt, dried mud, mould, grease, mildew, oil, moss, lichen, and stains. However you could end up damaging the surface or injuring yourself if you don't know what you're doing with high pressure cleaning equipment, so it's best to find out which surfaces are safe to clean with a pressure washer and which nozzle and technique to use when cleaning.
Commercial floor scrubbers are extremely good at cleaning floors. Reliable, powerful and durable, these machines have the versatility to clean a good range of different types of floors. When looking to get a good floor scrubber look into its noise output level, energy efficiency and durability ratings.
Supplies You Can Trust
For commercial cleaning products that are reliable, hypoallergenic, and carcinogenic free, contact Alpha Cleaning Supplies today. With over a decade of experience in supplying cleaning supplies and a strong focus on customer support, you can rest assured that you will be in safe hands with us. If you have any questions about our products, contact Alpha Cleaning Supplies or have a chat with our friendly team on (08) 9414 8777.
Related Articles:
Colour Coded Cleaning: What Is It? 
3 Tips for Choosing a Commercial Cleaning Company